News
October 04, 2021
Southwestern College President Brad Andrews has announced that he will leave the college in January to assume the presidency of Brevard College in North Carolina. Andrews will see the college through a successful fall semester and start of the spring before moving with his family to North Carolina.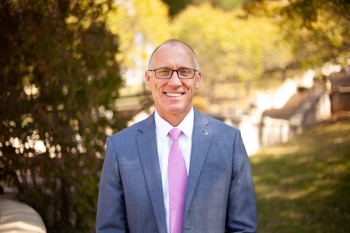 "Trish and I have loved serving at this amazing college and living in this special community," said Andrews. "Southwestern has great strength in its dedicated faculty and staff; a proud history; and an incredibly bright future."
Andrews was selected as the 19th president of Southwestern, a 136-year-old institution, in 2015.
Over the past seven years, Southwestern College has been a success story in the higher education landscape.
"I am proud of what our administration, faculty, and staff have accomplished during a particularly challenging period for higher education," said Andrews. "There is an incredible team of people here who work diligently, who are extremely capable, and who are truly dedicated to students. The historical strength of Southwestern and the quality of the educational experience is unquestioned. I am grateful and proud to have been a part of the great and ongoing story of Southwestern College."
The college has established sustained momentum through enrollment growth, doubling the number of applications for admission to the college. Enrollment has grown by over 30% on the main campus. Additionally, the college has achieved stability in the ever-shifting and competitive adult education market, as Professional Studies at Southwestern College has re-emphasized the quality and personalized attention that sets it apart for adult learners.
"We will be ever grateful to President Andrews for facing challenges presented by external forces and emerging realities head-on," said Kim Moore, chair of the Southwestern College Board of Trustees. "In these past years, Southwestern has significantly grown enrollment while simultaneously adjusting expenditures to live within our means. President Andrews' leadership has been a bridge and he designed a path forward for our college to a brighter era, one of reinvestment and growth."
Southwestern has invested over $3 million in existing facility upgrades over the past 14 months and soon will be breaking ground on the construction of a new residence hall set to open in less than two years.
Additionally, during Andrews' presidency, the college has seen an increase in annual fund giving and is nearing the end of a successful philanthropic campaign "Forward Now." The campaign emphasizes giving which supports real-time improvements directly impacting the student experience.
Moore and the Board of Trustees will launch a national search for Southwestern's 20th president.
"Even as President Andrews will still be with us through January, the board will immediately begin work to name an interim president who will fill the role in January. We will form a committee during the next few weeks to lead the search for Southwestern's 20th president, who we anticipate welcoming to campus this upcoming summer. The board has great confidence in a very skilled senior leadership team and is looking forward to a competitive national search," Moore said.
Southwestern will welcome its new president to campus this upcoming summer.
"Though we are saddened to see Brad and his family move, we are thrilled for them as they take this step in moving to a different college with similar values and makeup to our own," said Moore. "This change takes Brad and Trish nearer to their adult sons who now reside on the east coast, which is exciting for their daughters, who will soon start middle school and high school. Additionally, as president at Brevard, Brad will follow in the footsteps of one of his longtime friends and mentors. I know he'll make us proud there as he continues to do great work to advance the work of private liberal arts colleges."
At Brevard College, Andrews will be inaugurated as the 14th president. Brevard, an NCAA Division III institution, is a liberal arts college situated at the entry of the Pisgah National Forest. Brevard is also affiliated with the United Methodist Church.
"President Andrews has made many lasting contributions to Southwestern. He has led us to a position of strength and has underscored our purpose as an institution focused on helping our students learn and do more than they thought possible," added Moore. "In many ways, he has willed our college forward through some of the most challenging times that any of us have confronted. We will be forever grateful for his steady confidence and resolve throughout his years of service at Southwestern. We wish him the best of success in his new position."