News
May 13, 2022
MiCaila Holland, Arkansas City, and Jesus Flores, Ciudad Juarez, Mexico, received the Fran Jabara Leadership Award at Southwestern College Commencement exercises Sunday, May 8.
Holland graduated with a bachelor of arts degree in accounting and business management. Flores graduated summa cum laude (with highest honors) with a bachelor of arts degree in psychology and a minor in business administration.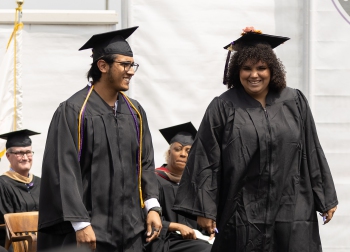 The Fran Jabara Leadership Award is presented to encourage the spirit of entrepreneurship and excellence in its recipients. Jabara, an Oklahoma State University and Wichita State University graduate, was an advocate of the American free enterprise system and founded the Center for Entrepreneurship at WSU in 1977.
Holland is the daughter of Tanya and Tyson Baker and the granddaughter of Michael and Judy Holland. During her time at Southwestern she played volleyball and served as vice president of Student Foundation and was the executive of finances for Student Government Association. She also worked with Student Success. Holland has accepted a position in Kansas City working for TreviPay as a sales development representative and business to business payment analyst.
"MiCaila aspires to do meaningful service work, in particular she is interested in non-profit efforts focused on assisting homeless veterans," says Southwestern College interim president Tony Crouch. "She's got a lot of love and as she leaves here she will use her gracious heart to continue to help others grow. Yes, the world need more Builders – the world needs more people like MiCaila, who care an awful lot and who are willing to do the work to have an impact."
Flores, a Bishop Scholar and a Masterbuilder, was a resident assistant in Wallingford Hall, a teacher aide for ethics and abnormal psychology, an ethics tutor, and a writing tutor. Additionally, Flores is working as a research assistant for the University of Texas at El Paso. He is also the president of the Psychology Club, a member of PsiChi, InterAct, Newman Club, Discipleship, and part of the Honors program for the social sciences division. He has volunteered to help with the student orientation programing such as Freshmen Workday and Builder Camp for the past three years.
Flores has been accepted to an education specialist program in school psychology at Oklahoma State University. He plans to apply to OSU's Ph.D. program the following year.
"Nearly all of Jesus's engagements on campus have been in service to others," Crouch says. "He constantly shows up for his classmates and for faculty. He is thoughtful and empathetic and he loves Southwestern. Even as he has learned and grown during his time here, he has contributed to the life of the college and has made Southwestern better, just by being here – by being himself. As Jesus moves down the road to Oklahoma State University, where we know he will excel, he carries with him the Builder spirit. He makes us so very proud and he will represent Southwestern well in all that is to come."