News
June 22, 2022
Incoming Southwestern College President Liz Frombgen; Tony Crouch, interim president and chief financial officer; Ross Peterson-Veatch, vice president for academic affairs; Molly Just, campus minister and director of discipleship; members of the Board of Trustees; construction partners representing the United States Department of Agriculture (USDA), Simpson Construction, RDG Planning and Design, and the City of Winfield gathered to officially break ground on a new residence hall. As their shovels hit the dirt a crowd of college employees, alumni, and community members applauded.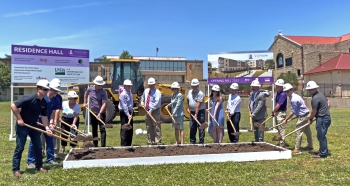 The 94-bed three-story residence hall, yet to be named, will open in the fall of 2023. The facility will be built on the open lot on the south side of Warren Avenue, situated diagonally across from Stewart Field House. The residence hall's design, which includes input from students and staff, includes suite-style living targeted to sophomores and juniors; the facility also includes common gathering areas and a fitness space which will be accessible to all students.
In the spring of 2021, Southwestern was selected by the USDA for an $11.66 million financing package through the Rural Development Community Facilities direct loan program to build a new residence hall.
The Southwestern College board of trustees voted unanimously to move forward with the construction of a new residence hall in 2021. Following action by the 27-member board, design development work began immediately.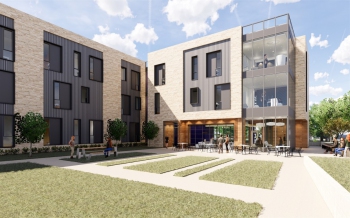 Southwestern was selected by the USDA for the highly sought funding vehicle after a comprehensive process, including an independent external audit examining the college's financial position and vetting the sustainability of recent enrollment growth.
"The terms available through the rural development direct loan program are very favorable to the college and impossible to beat in the private market," said Southwestern's interim president and chief financial officer, Tony Crouch. "Given our continued enrollment growth and the need for added housing capacity, this investment in the college is necessary and the most practical way for us to move forward with this exciting project."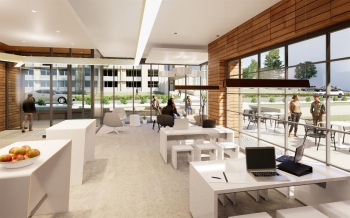 While the residence hall was the capital project the USDA selected for this financing opportunity, Southwestern is also aggressively moving forward to address other facility needs on campus as the student body continues to grow with several donor-funded construction projects on the horizon.
"The construction of this residence hall represents a lot of diligent work from a very capable team and it is an indication of the many exciting possibilities and investments that lie ahead for our college," said Frombgen. "We are Builders and today as we break ground together, we are taking action to build a brighter future for our college. We are investing in the experience and well-being of our students."