News
August 05, 2022
In the busyness of life, even adults may find it difficult to set aside intentional time for silence, reflection, and prayer. During the week of July 10-16, though, high-school juniors and seniors, and college-age counselors had the opportunity to experience this intentional time and returned home with new insight on how and where God might be calling them to serve, work, and live in the world.
Over six days on the Southwestern College campus in Winfield, Kan., students from Kansas, Nebraska, and New Mexico participated in activities that would guide them toward this calling:
Five days of Wesleyan teaching from expert instructors in an academic setting.
Scheduled time daily for guided prayer and Scripture reading.
Worship including the celebration of the Eucharist each day.
One-on-one time with pastors and leaders, including opportunities for spiritual direction and encouragement in writing personal testimony or faith stories.
Daily Band and Class meetings, in accordance with Wesley's system of discipleship and accountability.
More than 20 hours of silence for practicing spiritual disciplines in the hope of developing life-long habits.
Led by Rev. Peter Cammarano of the Texas Conference, each participant completed the Birkman assessment to learn about the way God has uniquely wired them, in regards to their usual behavior, their needs, and common responses when needs aren't met. These insights help young people process how their specific characteristics, strengths, and stressors may lead them in vocational discernment as they make academic and career choices in the coming years.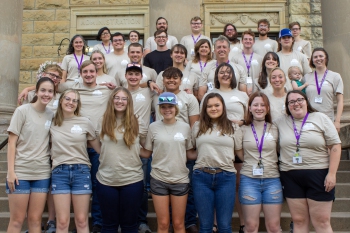 The youth were enthusiastic about the experience, as indicated in an anonymous post-Summit evaluation.
"When I get home, I will tell people that Summit Youth Academy is a life-changing program that encourages your mind to grow, encourages you to grow in your knowledge of Methodist theology, and encourages you to step out of your comfort zone," one respondent said.
Response to the survey also showed that all participants felt something they learned at the Summit will change their life forever, 92% said that they have new questions about God and faith after attending the Summit, and nearly half reported considering theological study in college.
Along with their daily classes, each Summit participant chose a 3-hour afternoon track, either mission-focused or worship leadership-focused.
The mission team planned, designed, and executed the Little Big Carnival – an opportunity for Big Brothers Big Sisters of Cowley County participants to enjoy an evening of fun at no cost to them. Debi Clark, development manager for Big Brothers Big Sisters of Cowley and Sumner counties, affirmed the work of the Summit team by saying "The smiles on the faces of all parties, despite the heat, were worth EVERYTHING! To accomplish a match activity, 'big for a day' and volunteer recognition all in one event was a true blessing."
The music/tech team planned and rehearsed a concert held in combination with the carnival. One Summit participant performed a song she wrote during one of the periods of intentional silence – a concrete example of God's presence and action during the Summit week. In addition to heightened awareness of God's calling, these high school and college participants will return to their local churches with newfound skills and confidence in leading worship, both through music and in all areas of worship production and technology.
Funded in part by a grant from the Lilly Foundation, the Summit Youth Academy will return for its seventh year next July, with dates to be determined soon. For more information or to nominate a high school student for next summer's event, visit www.summityouthacademy.org.
The Summit is a program of the Richard and Julia Wilke Institute for Discipleship, which is based at Southwestern College in Winfield, Kansas. It manages or supports a variety of educational programs — both online and on the ground at the college — that increase discipleship and Christian leadership skills.