News
October 26, 2022
Kansas Independent College Association (KICA) today released the results of a study that estimates the annual impact of Southwestern College on the statewide economy to be $56 million. Furthermore, the report shared that the nearly 8,000 Southwestern alumni living and working in Kansas make significant positive economic contributions to the state. Each year Kansas-based Southwestern alumni generate $71.2 million in economic output.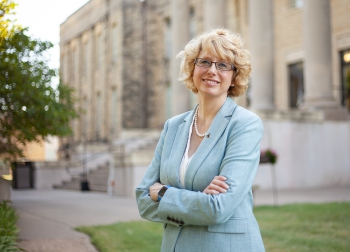 "In addition to the incredible work our faculty and staff do each day on campus to impact and transform the lives of our students, this study shows that Southwestern College also plays a vital role in our local, state, and regional economies," said Liz Frombgen, Southwestern College President. "Our operations and the economic activity generated by our faculty, staff, and students reach every corner of our local economy. While it is no surprise that Southwestern is an economic driver in our region, the numbers resulting from the study are real proof points demonstrating the value our college adds to the economy."
The study was commissioned in partnership by KICA and Southwestern and was conducted by Parker Philips, a nationally recognized consulting firm specializing in economic impact analysis. Nichole Parker, a principal partner at Parker Philips, said, "Economic impact is an objective way to measure the significance of an organization in the regional economy. Southwestern College clearly is a major contributor to the regional economy."
In the analysis, the study considered the direct spending on operations, pay, benefits, and capital projects by Southwestern College and the estimated increase in demand for goods and services in industry sectors that supply or support Southwestern. The study also measured the effect of student and college-related visitor spending in 2021 which totaled to $9.9 million.
A key result of this economic activity is that Southwestern supports and sustains 480 jobs including direct employment by Southwestern as well as indirect and induced jobs created by supply and equipment vendors, contractors, and laborers for the construction and renovation of facilities, and jobs created in the community at hotels, restaurants, and retail stores in support of Southwestern's faculty, staff, students, and visitors.
The analysis also calculated tax revenues generated by this level of economic activity, including sales, property, personal income, and corporate income taxes. The study concluded that the college generates about $3.3 million in total tax revenue. Of the $3.3 million, over $1.4 million was generated in local taxes only.
Additionally, the study shared that in 2021, the combined impact of charitable giving and volunteerism by faculty, staff, and students totaled to nearly $400,000 in community contributions.
"As the study shows, through the generation of revenue, operational spending, and community service, Southwestern College plays a significant role in the economic success and vitality of our larger community," added Frombgen. "It is also clear that for 137 years Southwestern has contributed to the cultural identity of Winfield and south central Kansas in meaningful ways which we can't quantify. As we consider the history and future of Southwestern we must acknowledge the many ways in which the college makes our region stronger."
Statewide, all private, nonprofit colleges and universities, including all 20 KICA members, plus the spending of its faculty, staff, and students, had a total statewide economic impact of $1.1 billion. This activity generated an estimated 8,269 jobs in Kansas.
View KICA Economic Impact Report