News
December 16, 2022
Southwestern College President Liz Frombgen announced professor of biology, Pat Ross, as the Honors Program Chair during a meeting of faculty and staff on Wednesday.


Ross holds a doctorate in biological sciences from the University of California at Santa Barbara and has worked as a member of faculty in Southwestern's division of natural sciences and mathematics since 1997. He earned administrative experience serving as chair of the division from 2004 to 2018. Additionally, Ross was the scientist in residence at Wichita's Exploration Place in 2014. Ross has received two notable awards at Southwestern, the Charles and Verda Kopke Distinguished Teaching Award in 2006 and the Fassnacht Outstanding Teaching Award in 2013. Prior to leaving Truman State University for Southwestern in 1997, Ross was honored with the E.M. Violette Outstanding Advisor Award.

Of his selection, Ross shared, "I'm excited to help write a new chapter at Southwestern College as well as begin a new chapter in my role at the college. My heart is with Southwestern and our students. I am committed to the future of our college."
Ross, who was selected by a committee of fellow faculty and administrators, has already begun building a curated curriculum for the Honors Program, but will continue to work with colleagues in the coming months to fully outline the details of the program.
"In an open search from the faculty, a committee selected Pat Ross to be the first Chair of the program," said Ross Peterson-Veatch. "Pat brings recruiting and administrative experiences as well as all the enthusiasm and knowledge necessary to develop the program."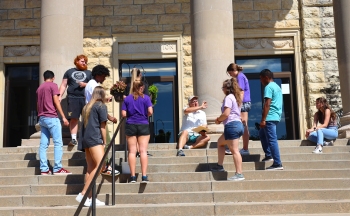 The program is focused on elevating the academic experience for high-achieving students at Southwestern, forming a scholarly community through both classroom and experiential learning, which will include academic travel and undergraduate research.
"My goal is to craft an Honors Program that reflects the core values of Southwestern College: interdisciplinary exploration, service learning, and building bridges while breaking boundaries," said Ross. "We will offer far more to students than just challenging coursework, our program will inspire students to find fun in journeys of academic discovery and exploration and it will implore them to use their big brains for good – to make a difference in the world."
Ross will soon begin recruiting the inaugural cohort of honors students. Entry to Honors Program is application based. Program eligibility includes a high school GPA of 3.5 or higher and a minimum score on the ACT of 25 (or 1200 SAT). Interested first-year students may submit a program application accessed at sckans.edu/honors, an essay response, a letter of recommendation, and an interview with Ross and desired major faculty, preferably in person.

"Pat is uniquely positioned to work with colleagues across campus to build an incredible program that will attract and retain students for whom academic excellence, and exploration are their greatest goals," said Frombgen. "Pat is such a creative thinker and engaging teacher, even as the program will present rigor and challenge, I anticipate it will also be great fun for students. I know our honors program and the students therein will be a great point of pride for Southwestern College. I look forward to welcoming the first Honor Program cohort to campus next fall."

Interested high school seniors are encouraged to visit sckans.edu/honors to learn more about the honors program and complete the application for program admission. Pat Ross may be reached by email at Patrick.Ross@sckans.edu.