News
March 30, 2023
Dawn Pleas, vice president for special projects and planning at Southwestern College, has been inducted into the Black Educators Hall of Fame.
The event was held on Saturday, Feb. 25, in the Rhatigan Student Center on the campus of Wichita State University.
The Kansas Black Educators Hall of Fame, founded in 2017, now has 54 members, most of them from Wichita. Members of the hall, a project of the non-profit Art That Touches You Heart, are selected through a community-led nomination and voting process.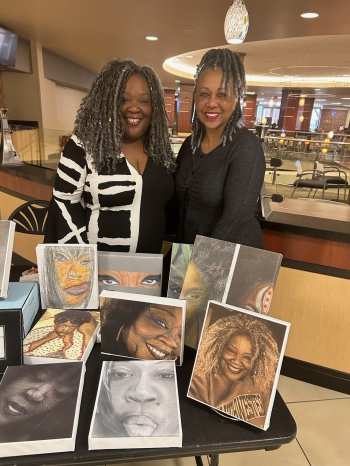 PHOTO—Dawn Pleas (left) was inducted into the Black Educators Hall of Fame on Feb. 25. Friends and family came to support Pleas, including Pastor Pamela Hughes of St. Paul AME Church in Wichita. Pleas's artwork was also on display at the event.
Pleas has been at Southwestern College for almost 30 years and was nominated by SC board of trustee member Greg Cole. This honor has made her reflect on her family.
"I didn't respond right away," Pleas says. "I didn't think I was old enough or ready. But I decided I needed to stop hiding my light. If I continue to hide my light, then both my Builder collegiate family and my Pleas legacy family misses this opportunity to shine. I started thinking about my grandmother, Daisy Pleas, who had a third-grade education. She raised 10 kids, my dad being number seven, in a two-bedroom house and I think that your legacy isn't developed in your children but in your grandchildren. My grandmother never smiled and I just imagined her smiling. It's an honor to my family. And then, I get to talk about the best school ever, and that's Southwestern College; I want to be bold and dynamic and I don't want to be scared."
Pleas grew up on the Southside of Chicago during the civil rights movement in the 60s and 70s. Her family moved to the west suburbs of Chicago during her teenage and college years. Her first professional job was in west Georgia, and has now lived in Winfield for 30 years.
Pleas has been a driving force in diversifying the SC campus.
"The campus was over 90% white when I got here," Pleas says. "I brought about collaboration between functional areas while mediating cultural landmines between administration, disenfranchised students, and campus organizations. I worked closely with athletics and admission to bring honesty and accountability to recruitment. The campus climate is much different today. The racial profile of the college is in thirds: 40% white, 30% Black and Hispanic, and 30% not declaring/two or more races/other ethnicities. The campus is one of harmony, cross-cultural acceptance, and strong relationships."
In 2008, Pleas earned a higher education doctorate from the #1-ranked University of Pennsylvania, Graduate School of Education. Since then she has been a part of numerous projects including researching and highlighting the first graduates of color from Southwestern, starting with the first black male, Rev. Elijah Pilgrim Geiger, in 1899; grew the college reputation as an excellent source of service to a diverse campus constituency; and hosted campus field trips for hundreds of urban middle and high schools each year, and facilitated summer academic enrichment camps for middle school and high school students. She has earned several local, regional, and national awards including the Dr. Martin Luther King, Jr. Award -- W.G. Williams Foundation (Wichita); Good Apple Award from Wichita USD 259 school system; Wichita Business Journal as Women Who Led; Carruth Sustained Leadership Award from the University of Pennsylvania; and the National Humanitarian of the Year by Church Women United.
Pleas, with a tear in her eye, thought of her parents at this special time.
"My mom told me she is really proud of me," Pleas says. "I miss my dad, I wish he was there. Out of everybody, he was a lifelong educator, he made it for 37 years. My sister is proud of me. When your people are proud of you, that's all there is."
Southwestern College is a private liberal arts college, founded in 1885 by Methodists in south-central Kansas. Today its Winfield campus is the residential hub that guides students to lives of meaning and service, with well-rounded academic and extra-curricular offerings attracting traditional-aged students from throughout the nation and world. Southwestern College Professional Studies provides options for online students in any location and has been named a top provider for persons serving in the military. The college continues to be affiliated with the United Methodist Church and is accredited by the Higher Learning Commission to offer bachelor's, master's, and doctoral degrees.