News
May 12, 2023
Cheryl Rude, professor of Leadership studies, was named the recipient of the Charles H. and Verda R. Kopke Award for Distinguished Teaching during Southwestern College Commencement exercises Sunday, May 7. The Kopkes established the award in order to honor outstanding faculty members.
Rude holds a Ph.D. in Leadership education from The Union Institute and University and a master's of education from Wichita State University in Counseling and School Psychology.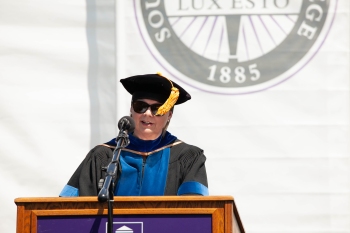 In her introduction, Southwestern College President Elizabeth Frombgen shared that Rude is a prolific and powerful presenter having led workshops focused on the ideals of servant leadership all across the country. Additionally, her work has been broadly published in journals and books. She was co-editor for "Disciple Bible Study for Youth," which is used worldwide as part of the 'Disciple Bible Study' series.
"She's (Rude) earned many awards and recognitions, but the one that catches my attention is that Dr. Rude has been recognized with the Student Government Association's Faculty Citation three times during her tenure – meaning she is much loved by her students," Frombgen says.
During the commencement ceremony, Rude was designated with Professor Emeritus status and was the keynote speaker. She is retiring from her current position and will be joining the administrative team of the Richard and Julia Wilke Institute for Discipleship on campus as the director of campus programming and operations.
Rude arrived at Southwestern College in August of 1991. As professor, she has taught a series of undergraduate Leadership classes, served as chair of the social sciences division, served as faculty chair, and served on dissertation committees for doctoral students. Rude also began and has served as the academic director of Leadership Southwestern which will continue forward with the oversight offered by current service-learning program director, Brae Wood. Rude's innovative and holistic model for Leadership Southwestern was recognized in 1997 with the National Outstanding Leadership Program Award.