News
May 31, 2023
KenTayshija Pruitt, Arlington, Texas, and Gabe Vannucchi, Wichita, received the Fran Jabara Award at Southwestern College Commencement exercises Sunday, May 7.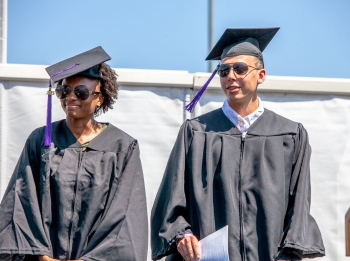 (Pictured: KenTayshija Pruitt and Gabe Vannucchi.)
Pruitt graduated with a bachelor of science degree in biology. Vannucchi graduated with a bachelor of arts degree in psychology.
The Fran Jabara Award is presented to encourage the spirit of entrepreneurship and excellence in its recipients. Jabara, an Oklahoma State University and Wichita State University graduate, was an advocate of the American free enterprise system and founded the Center for Entrepreneurship at WSU in 1977.
Vannucchi participated in cross country and track and field. He has been a servant leader on campus and a resident assistant for three years. This summer he plans to visit Panama, where he's also done internship work. Vannucchi will return in the fall and plans to pursue a master's degree in sport psychology.
Pruitt was a member of the SC cross country and track and field teams. She was the vice president for Student Foundation and a resident assistant. She is applying for physical assistant programs and, according to Frombgen, will represent Southwestern well in her care for others.
Pruitt and Vannucchi each received a plaque and a cash award.