News
October 30, 2023
Southwestern College is excited to participate in the inaugural Kansas Apply Free Days through cooperation with the Kansas Board of Regents on November 7-9, 2023.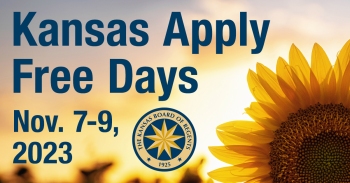 Kansas's first Apply Free Days will be held on November 7-9th, 2023, for Kansas residents! During these three days, any Kansas resident, regardless of age or income can apply for free at any of our 7 public universities, 19 community colleges, 6 Technical colleges, and the 21 private member institutions of the Kansas Independent College Association, including Southwestern College. Eligible programs include general applications, certificate programs, associate degree programs and bachelor degree programs. (Graduate programs or other mid-degree applications will not qualify.)
START YOUR APPLICATIONS EARLY!
To make sure your Southwestern College application is in tiptop shape and ready to submit on time, it's a good idea to start your application before November 7. Even if you finish the application early, you can wait until Tuesday, Nov 7th to push "submit" and finalize your application. Remember - only applications submitted during this three-day time frame, Tuesday, Nov. 7-Thursday, Nov. 9, will be free. There will be no refunds given for applications submitted outside of this three-day window, even for technological errors.
Please contact the SC Admission Office if you have problems with application submission.
WHO IS ELIGIBLE TO PARTICIPATE IN KANSAS APPLY FREE DAYS?
As a part of the statewide Apply Free Days program, all residents of Kansas who are applying for undergraduate programs at Southwestern College are eligible to submit their admission applications for free Nov. 7-9, 2023. Undergraduate programs include undergraduate-level certificates, associate degrees, and bachelor degrees. This means all of the following applicants are eligible:
First-time freshmen
Transfer students
Returning students
Applicants seeking a second bachelor's degree
Applications for graduate-level programs are not eligible.
APPLY NOW
Learn more about the Kansas Apply Free Days on the Kansas Board of Regents website.