Little Builders Preschool
Little Builders Preschool
A full day, multi-age preschool for 3 1/2 to 5-year-olds
Year-round schedule
Offering full-day and abbreviated schedules which include breakfast, lunch, and one snack
Little Builders Preschool has space for 20 children, 3 1/2 to 5 years of age and who are toilet trained. Enrollment in the program is open to children of staff and faculty of Southwestern College, as well as all the children in the Winfield Community.
---
Little Builders Preschool Daily Schedule
Each day is planned to provide activities and opportunities for emotional, social, cognitive, language and physical development. Curriculum plans are posted so that parents may know what the children do each day and weekly newsletters are developed for parents that describe the planned activities and unique opportunities for the week.

The daily order of events will remain fairly constant so that the children can learn to anticipate "what's next". Occasionally, changes are made in the schedule to accomodate weather changes, special trips, and visitors. The following is a typical schedule for our preschool group.

7:00-8:30 - Arrival/ Free Play
8:30-9:00 - Breakfast
9:00-9:30 - Circle Time (songs, calendar, weather, etc.)
9:30-10:00 - Group Work (Literacy or Math)
10:00-10:30 - Free Play
10:30-11:20 - Outside
11:20-11:30 - Books/Wash for Lunch
11:30-12:15 - Lunch
12:15-12:30 - Tub Toys or Puzzles/Brush Teeth & Bathroom
12:30-2:30 - Rest Time
2:30-2:50 - Snack
2:50-3:10 - Music & Movement
3:10-3:40 - Group Work (Science or Art)
3:40-4:30 - Free Play
4:30-5:30 - Outside
5:30-6:00 - Tub Toys/Clean-Up/Departure
---
Little Builders Tuition and Fees (2017-2018)
FULL DAY -- 7:00 a.m. to 6:00 p.m. $125.00 per week
(Includes breakfast, lunch, and 1 snack)
HALF DAY AM -- 7:00 a.m. to 11:15 a.m. -- $75.00 per week
(includes breakfast)
HALF DAY PM -- 11:30 a.m. to 6:00 p.m. -- $85.00 per week
(Includes lunch and 1 snack)
Every family MUST fill out the payment schedule contract. This form informs the preschool what type of payment will be received for services and when the payment will be made. Tuition is due on Friday evening for the following week when paid on a weekly basis. A late fee of $10.00 will be charged if payment is not received by 6:00 Friday evening. Tuition that is due on a scheduled payment date must be made by 6:00 PM. If payment is not made, a late fee of $10.00 will be charged.

Weekly rates will be $10.00 less for a second child enrolled full-time from the same family and $5.00 less for a second child enrolled part-time from the same family.

A $15.00 nonrefundable enrollment fee is required to hold your child's place in the program.
---
Little Builders Lead Instructor
Alexis Miers - Director/Lead Instructor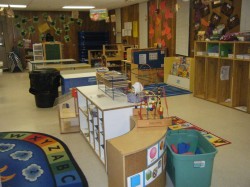 Little Builders Classroom has our computer that is utilized by the children to work on concepts being taught.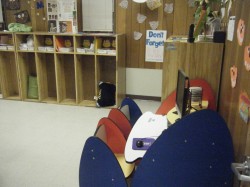 Little Builders has a "Safe Place" that is utilized for children needing time by themselves. This allows children to identify the emotions that are felt and time for reflection. We also have breathing techniques that are utilized on a regular basis. The safe place is next to our library so children can look at a book while there.