Athletic Training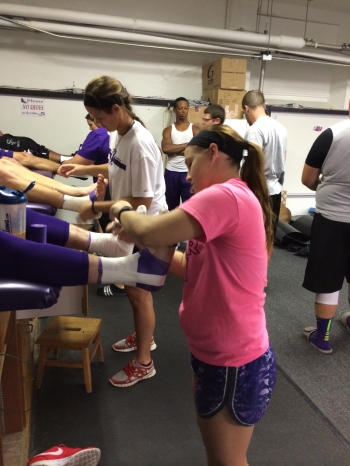 What is an Athletic Trainer?
Athletic training is recognized as an allied health care profession by the American Medical Association.
A certified athletic trainer (AT) is a highly educated and trained professional who specializes in the prevention, recognition, management, and rehabilitation of athletic injuries. An AT works closely with physicians and other health care professionals in the total health care of the athlete.
Certified athletic trainers are employed in secondary schools, colleges and universities, professional sports, clinics and hospitals, industrial settings, the military, as well as many others.
Progressing with the Profession
Earn a degree in Health Science or Biology (other options available)
Earn the prerequisites necessary for admittance into a Master's of Athletic Training Program
Countless opportunities to observe and learn under certified athletic trainers working with any of our 16 athletic teams at Southwestern College
Benefit from additional athletic training courses taught by a certified athletic trainer
Opportunities to attend state, district, and national athletic training conventions
Begin networking with athletic trainers now
Athletic Training Scholarships are available
"Right out of college, I got a job working as an athletic trainer at an orthopedic office. Though this is not a typical athletic training setting, the faculty at SC prepared me to be able to adapt to any environment and use my time management skills."

Kayla Demel, MS, LAT, ATC Class of 2017
Course Preview
Introduction to Athletic Training
Kinesiology
Exercise Physiology
Care and Prevention of Athletic Injuries
Medical Terminology
Principles of Nutrition
Human Anatomy and Physiology
Musculoskeletal Assessment
Therapeutic Interventions
"The faculty at SC prepared me for my career by challenging me in many different ways. They put us in situations that allowed us to grow and learn. SC gave us the proper knowledge and framework to be successful upon graduation."

Craig Thurber, LAT, ATC Class of 2017
4-Year Plan
Contact Us
For more information on our program, please contact Lisa Braun, MEd, LAT, ATC; Director of Athletic Training Education; 100 College Street; Winfield, 67156; (620) 229-6226; lisa.braun@sckans.edu
---
Links
---
Alumni
Class of 2019

Name
Position
Employer
Darci Collins, ATC
Mitchell Hewitt, ATC
Graduate Assistant Athletic Trainer
Ottawa University
Justine Vogele, ATC
Athletic Trainer
Northern Therapy & Rehabilitation

Class of 2018

Name
Position
Employer
Olyvia Bish, ATC
Graduate Assistant Athletic Trainer

Baylor Scott & White
Texas Spine & Joint Hospital
Trinity Valley Community College

Taylor Henderson, ATC
Graduate Assistant Athletic Trainer
Emporia State University
Jordyn Miller, ATC
Doctorate of Physical Therapy Student
Wichita State University
Zach Moya, ATC
Doctorate of Physical Therapy Student
University of St. Mary
Miranda Otte, ATC
Athletic Trainer
Texas Orthopedic Specialist
Medical Assistant
Baylor Scott & White

Class of 2017

Name
Position
Employer
Gina (Belt) Hernandez, ATC
Athletic Trainer
Kansas Orthopedics
Bailey (Collier) Jarvis
Assistant Track Coach
Dodge City Community College
Kayla Demel, ATC
Teacher
Ponca City High School
Athletic Trainer
Newkirk High School
Heather Gilmore, ATC
Doctor of Chiropractic Student
Logan University
Athletic Trainer
Mercy Hospital
Courtney Jones, ATC
Athletic Trainer
California High School
Jerry Jones
Project Manager
Tristar Glass Company
Craig Thurber, ATC
Athletic Trainer
Parkview Orthopedic Hospital
Cody Walther, ATC
Assistant Athletic Trainer
William Woods University
Abbie Woods, USAW, CSCS
Head Strength & Conditioning Coach
D1 Training

Class of 2016

Name
Position
Employer
Taylor Bleumer
Credit Support Specialist
High Plains Farm Credit
Rachel (Vieyra) Harper, ATC
DME Coordinator
KS Joint & Spine Specialists
Ashton Isch, ATC
Doctor of Chiropractic Student
Cleveland Chiropractic University
Kayla Lovell, ATC
Doctor of Physical Therapy Student
University of Oklahoma
Blake Smith, ATC
Associate Athletic Trainer
Cowley County Community College

Class of 2015

Name
Position
Employer
Caitlin (Hays) Fernandez, ATC
Athletic Trainer
Spine & Sport Physical Therapy, San Diego, CA
Mandy Watson, ATC
Head Athletic Trainer
St. Charles Community College
Doctoral Student
Concordia University Chicago

Class of 2014

Jamiee (Grinstaff) Davenport
Funeral Director/Embalmer
Advantage Funeral & Cremation Service
Grant Trembly, ATC, PT
Athletic Trainer/Physical Therapist
Advanced PT
Allyssa (Zentner) Mohney, ATC
Athletic Trainer
Washburn University, Stormont Vail Hospital

Class of 2013

Laken Campbell
Tiffany (Rodgers) Shinneman
William Newton Memorial Hospital

Class of 2012

Kindell Copeland, ATC
Athletic Trainer/Physical Therapist
Kelli Florio, ATC
Assistant Athletic Trainer
Campbell University
Megan Kerns, ATC
Teacher
Comanche Middle School
Assistant Athletic Trainer
Dodge City High School

Class of 2011

Tory Dreger
Kasey Kaiser
Courtney Putnam, ATC
Assistant Athletic Trainer
Gardner-Webb University, Boiling Springs, NC

Class of 2010

Valerie Hart
Greg Jeffers, LAT
Athletic Trainer, Teacher
Sabine ISD
Lindsey (Knak) Keck
Nathan Morrison, ATC
Asst Athletic Trainer
Southwestern College
Rene (Schwan) Duell, ATC
Krystal Tyree, ATC
Athletic Trainer
Klein ISD

Class of 2007

Melanie (Brady) Oaks, ATC

Robyn (Crosby) McKown
Paramedic
Grant County EMS

Class of 2005

Dustin Holley, ATC
Athletic Trainer
Omari Head

Class of 2004

Jeromy Jones, PT, ATC
Physical Therapist
Stillwater Medical Center OP Clinic
Heather(Leach) Munk, ATC
Athletic Trainer
Parker Wells
Tiffani Smith

Class of 2003

Amanda Beadle, ATC
Head Athletic Trainer
Hutchinson Community College
Erin Eis, PT

Class of 2002

Sherri Bradley, MS, ATC
Jeff Fluty, ATC
Head Athletic Trainer
Cowley College

Class of 2001

Todd Fagan, MS, ATC
Head Men's Basketball Athletic Trainer
Wichita State University
Amy (Monical) Roberts, MS, ATC
Project Manager
Medfusion
Ngan (Nguyen) Morris, MEd, ATC
Head Athletic Trainer
John Tyler High School/Tyler, TX
Kevin Warner
Joey (Wilkinson) Hobbs, MEd, ATC
Sales Rep/Athletic Trainer
OrthoRX Medical Equipment/Lewisville, TX

Class of 2000

Seth Naughton,
MS, ATC-LAT
Head Football Athletic Trainer
West Texas A&M University

Class of 1998

Amy Alley, PT, ATC
Physical Therapist
Rainbows/Wichita, KS
Lisa (Ashenfelter) Braun, MEd, ATC
Director of Athletic Training Education
Southwestern College
Leslee (Gibson) Brown, PT, ATC
Physical Therapist
Nova Care/Wichita, KS
Janet Walton, PT, ATC

Class of 1995

Kerri (Bennett) Pleasants, PT, ATC
Physical Therapist
Outpatient Clinic/Louisa, VA

Class of 1994

Lori Burton, PTA, ATC
Outreach Athletic Trainer
Via Christi Sports Medicine/Wichita, KS
Suzanne (Orvis) Haffner, PT
Physical Therapist

Class of 1983

Phil Carr, MS, ATC
Head Athletic Trainer
Pittsburg State University
Robin Rivers, MSS, ATC

Class of 1981

Cheryl Lindley, PA-C, ATC
Physician Assistant
Alegent Health Family Care Clinic/Omaha, NE