General Information
What is the Summer Music Festival?
A summer camp on the beautiful campus of Southwestern College, studying with our outstanding faculty and developing your musical skills. Choose one of four areas of emphasis – choir, orchestra, piano, or band.
In addition to focused time on individual areas of emphasis, elective classes are part of the daily schedule. These classes give students the opportunity to explore new topics and develop skills in fun topic areas such as African drum & dance, musical theatre, Fun with Music Theory, Conducting, and Music and the Brain.
Activities like movie night, a dance, capture the flag, and ukulele night add to the fun!
---
When is the Summer Music Festival?
June 10-16, 2018
---
How do I apply?
Submit the online registration form found at the link below:
---
Who should attend?
High school and college (freshman/sophomore) musicians at intermediate to advanced skill levels.
Rising college juniors or seniors should may apply for our Counselor Program.
---
Where will I stay?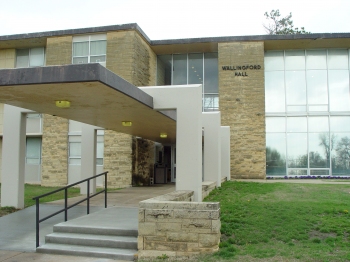 All participants will be housed in Wallingford Hall. Festival Counselors will live in each wing of the hall and will participate in activities alongside students. The entire campus features wireless internet access.
---
What will it cost?
We continually strive to keep our tuition cost as affordable as possible. Through the generous support of musician and former Southwestern College trustee Dr. George Cole, all students receive aid to attend, thus lowering the cost of tuition to $395 for overnight campers and $325 for day campers. Additional scholarship aid based on need and merit is also available. Please mark your request when submitting your registration form.
Overnight Campers
Staying on campus as an overnight camper is the best way to make the most of your time at camp. Spend social time with new friends and get a taste of what it's like to be away from home and as a Southwestern College student.
Overnight Camper tuition is $395 and includes the following:
Housing in Wallingford Hall (Housing begins at the designated check-in time through the designated check-out time.)
3 meals per day plus snacks
Festival T-Shirt
24-hour Supervision (Campers are not permitted to be anywhere on campus besides the dorm, dining hall, and music buildings, unless they are accompanied by a counselor.)
Day Campers
Students may attend as a day camper if they are staying at home or with a relative over the age of 21. Day campers are welcome to participate in all activities. Day campers should be prepared to attend camp from 7:30 a.m. – 6:35 p.m. and some evenings between 7:30 p.m. and 10:00 p.m. Dinner is not provided for day campers, they may purchase additional meals for $7.
Day Camper tuition is $325 and includes the following:
Day Supervision
Festival T-Shirt
Breakfast, lunch, and snacks
Scholarships
*Through the generosity of donors and various fundraising activities, a limited number of additional scholarships may be available.
We also are hosting a Scholarship Competition on March 3, 2018. Click here for all the details.
---
What facilities will I use?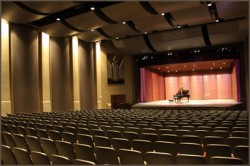 All classes and rehearsals will be on the Southwestern College campus, a safe and accessible college located on a hill on the east edge of Winfield, Kansas. Many performances will be in the new state-of-the-art Richardson Performing Arts Center, dedicated in October 2011.