Success Stories
Below are some Success Stories from 2017: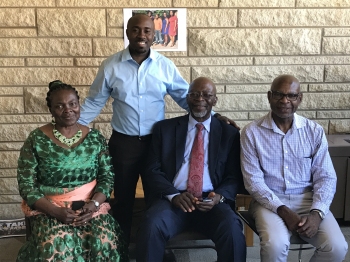 Aniefiok Ukim. BA in Business Administration. Ukim transferred to Southwestern with many credits and one of the worst GPA's I have ever seen. He had attempted enough credits to graduate but was nowhere close. It felt like he was on probation every semester he attended Southwestern, but he consistently showed that he had what it took to succeed. Each semester got better and better. Aniefiok graduated May 2017 with a Bachelors of Art in Business Administration and with our recommendation will continue here this fall to start on his MBA! To add to the story, he is the latest in a long line of Southwestern Alumni; his Grandpa, Mother, and a few Aunts and Uncles attended here. He plans to finish his MBA and return to Nigeria to take over his mother's very successful healthcare business.
Kayla Crater. BA in Chemistry. Kayla came to us struggling to find her way here at Southwestern. She was on probation, not engaged and about ready to quit when we started talking about high speed motorcycle stunts. Granted motorcycle stunts had little to do with her academic success but it had a lot to do with her feeling cared about. From that point on we saw a new person. She baked us cookies, was promoted at work, passed a national pharmacy technician exam and has hopes to be a Pharmacologist someday. We know she can do it. Kayla graduated May 2017 with a Bachelors of Art in Chemistry.
Keetley McLachlan. BGS. Keetley transferred to us from Arizona and had two very poor semesters here. She was on probation frustrated with her performance in her major, frustrated with school and was on the brink of returning home. The outlook didn't look good for her with so many credits from the other institution. We met with her and reviewed her options and made a plan for graduation. Since her switch and plan for the future she has consistently excelled in class. She has plans to work for a while and explore some of the world before she makes her next move. We will be here to take her call whenever she wants to check in. Keetley graduated May 2017 with a Bachelors of General Studies.
Alex Shimp. BA in Psychology. Alex has worked with our office for a couple years now. We saw something in her. She was a hard worker, she wasn't satisfied with just good enough and she wanted to make a difference in the world. Those qualities convinced us to take a chance. It has paid off. She has been a dedicated worker at the Student Success Center and has grown while at Southwestern. Alex graduated with her Bachelors in Psychology May 2017 and has been accepted into the Master's program in Marriage and Family Psychology at Friends University.
Ke Zhu Qian. BGS. We first met Ke Zhu (Kendra) when she was struggling academically and unable to move forward in her studies. She was under a great restraint as her family would only allow her one more year to complete her degree and with the path she was on it was not possible. Our office worked together with faculty to make a plan for graduation and she completed it. Ke Zhu graduated May 2017 with a Bachelors of General Studies. She will stay stateside for a while longer before returning to China.
Nicole Mound. BA in Biology, Minor in Psychology. Nicole came to us very frustrated with her major, unable to pass some of her classes needed for her major and ready to go home. Her situation was complicated by being so far away from her infant son in Texas. We looked at her options and figured out her best path. In her case the best path to success was to continue in her major and retake the difficult courses. Following the Fall 2016 semester we thought she had quit, but connecting with her again we found out that a faculty member was working with her to complete her degree. She will graduate this summer with her Bachelors of Art in Biology with a minor in Psychology.
Vanessa De La Cruz. BGS. Minor in Business Administration. Vanessa transferred to us from Dodge City and was in a hard spot after 3 poor semesters. She was very sad and felt like she was disappointing her family by not being able to complete. We made a plan for her to complete and she accomplished it this year! Vanessa graduated May 2017 with a Bachelors of General Studies with a minor in Business Administration. She is returning home but has already applied and been accepted at another institution to pursue her passion in Mortuary Science.