News
September 25, 2018
The Richard and Julia Wilke Institute for Discipleship is launching a new podcast that explores career, vocation, and listening to God. Through recorded interviews, guests on "The Listening Chair" share how they live into the calling of being a beloved child of God, and how they live out this love through their vocational calling. Stories from people of all ages, stages of life, and career fields will be shared.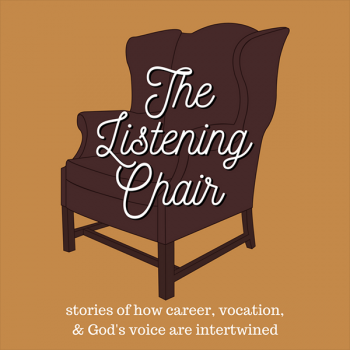 Hosted by Meg Calvin and Miranda Priddy, the podcast launched on Sept. 8, and has released a pilot and five full episodes. The hosts plan to release a total of 20 episodes for the first season, with one new episode every other week.
"Podcasts are becoming more mainstream and easy to access," says Priddy. "'The Listening Chair' is the Institute's way of moving forward with technology for the church at large, but keeping the longstanding practice of testimony."
The podcast is one of a number of programs and initiatives from the Institute for Discipleship that aim to help young people hear God's voice and become stronger disciples.
"As the Institute builds more programs for Gen Z and Millennials, it became necessary to start gathering stories of dream jobs and divine nudges to help young people navigate leaps of faith despite discouraging voices and unclear next steps," says Calvin. "There's something healing and encouraging about stories. They tell you that other people have had the same struggles you're experiencing and have come through them."
While the podcast is intended to help young people choose career paths, Calvin and Priddy recommend it to anyone who doubts their next career steps or wants to match a career to passions and interests.
"If you think you chose the wrong career, are sick of people telling you that there is no money in the line of work you're dreaming of, or that the job you want does not exist, come on over and get cozy for a listen," says Priddy. "Chances are, listening to our guests' stories will help you write your own."
"The Listening Chair" is available for download at iTunes, Google Play, Stitcher, and Podbean. Those interested can also listen at www.institutefordiscipleship.org/listeningchair or connect via @thelisteningchair on Facebook and Instagram or @megandmiranda on Twitter.
The Institute for Discipleship was founded by the authors of the Disciple Bible study series and provides Christian resources and education. It is based at Southwestern College, a United Methodist college in Winfield.