Cost of Attendance (COA)
Definition: Cost of Attendance (COA) is the total cost of attending a college for a period of one year. This estimated budget includes all reasonable expenses a family can expect such as: tuition, room and board, books and supplies, personal expense and transporation. Click here to learn more about budgeting for college expenses.
| | |
| --- | --- |
| COA is not Direct Cost - Direct Costs are the charges that actually appear on the student account. COA is a budget - an estimate of what it might cost an average person to attend. Direct costs will also vary because of individual choices in selecting residence hall options, meal plans and courses that require specific fees. | |

Estimating the Cost to Attend (Net Cost)
Net cost is the amount a student must pay after scholarships and grants have been applied. Calculating net cost is easy. Use the formula: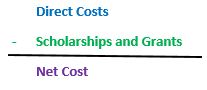 Still having trouble? Contact the Office of Financial Aid to receive a detailed estimate of direct costs minus financial aid. The Federal Net Price Calculator will give you a rough idea of cost using COA in its calculations as opposed to direct costs.
Important Links
Watch this video or click here to get great tips on Budgeting from the Department of Education.